The End of Life Remains
Your
Life


Your death should reflect your values and life. Most philosophical and religious traditions:


Allow unnecessary suffering to be addressed

Encourage patients and families to plan for the end of life, and then to follow that plan.

Accept past conversations as a guide, if current patient preferences are not known

Though this may all seem obvious and easy to follow, it is not. At this very moment, thousands of people are dying in pain, nausea and despair. Some people, even health care professionals, misguidedly believe that medical ethics or legal imperatives prevent "a good death." Some simply lack time to clarify the options available, or think another member of the team is doing so.

If someone you love is suffering while dying, whether you are a legal proxy or not, you have the
absolute right
to discuss the issues that concern you with a medical, unit or nursing director, the patient's physician, or to simply convey that your loved one is suffering and that is unacceptable to you. Often, that is a cue they are waiting to hear.


Plan Now


Make sure you and those you care about have completed a health care power of attorney and an advance directive that is valid where you live. And talk with each other about what a "good death" will mean, just as you'd plan any other important project. The badge below links to the NHDD portal, a great information source.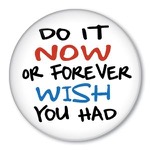 Let me know how I may help.